Where we take a look under the surface and decipher the crush-worthy careers of our favorite celebs. Photo Credit: Theo Wargo/Getty Images/Corduroy Graphics
Levels: First Encounter, Tiny Crush, Big Fan, Love, Ride or Die
What I'm watching to prep:
Frances Ha (2012) – Netflix
Inside Llewyn Davis (2013) – Amazon Prime Video
Tracks (2013) – Free on Tubi
What If (2013) – Amazon Prime Video
While We're Young (2014) – Netflix (has now left Netflix)
Hungry Hearts (2014) –Hulu
The Force Awakens (2014) – Disney Plus
Midnight Special (2016) – Amazon Prime Video
Paterson (2016) – Amazon Prime Video
Silence (2016) – free on Sony Crackle
The Last Jedi (2017) – Disney Plus
The Man Who Killed Don Quixote (2018) – free on Sony Crackle
The Report (2019) – Amazon Prime Video
Marriage Story (2019) – Netflix
The Rise of Skywalker (2019) – Disney Plus
What do you get with a dose of charm mixed with a serious personality? This moment's crush — Adam Driver! I first encountered Adam Driver, like the majority of people, when he was cast as Kylo Ren in the Star Wars franchise. I'd heard of him from the HBO show Girls, but hadn't seen any episodes at that point and wasn't ready to judge his "crush" status from seemingly no evidence.
Not to be a buzzkill, but I used to not be on board the Adam Driver-crush bandwagon. He's not someone who is traditionally handsome and has this strange, Cumberbatch-ian quality to him that makes you contemplate the old adage of "Is he hot or is he just tall?" He also looks like my real-life brother (especially as Sevier in Midnight Special), which has always been slightly hilarious to me. But that's beside the point. What has cemented his "crush" status in my mind is his career.
Although I strive to feature relatively unknown creators here, I figured I had to write about Driver due to his acting ability and the number of his films readily available to stream online. There are fifteen films available on either major streaming services or free to watch where Driver is a lead or a prominent character role. Fifteen! Holy heck! I had to watch them all.
I stuck to movies because, despite it being a pandemic and I'm not leaving my apartment, I don't actually have endless amounts of time to watch every single piece of content on his resume if I want to continue to re-watch The Good Place. However, that should not discourage you from doing so! There are also three films I love that are only available through extra add-on charges to subscriptions services: Logan Lucky (2017), Blackkklansman (2018), The Dead Don't Die (2019). I couldn't include them on the list because of the extra charges, but I'd like to recommend them anyway.
What I've discovered on this rather intense deep-dive into Driver's filmography is that he tends to play Lovable Oddballs or Angry Intellectuals. I understand that it's a bit reductive to place all of his acting performances into two categories, as he doesn't play the same characters, but all of his characters fall under this spectrum of traits that seem to be his "brand" or "archetype". Knowing the archetype or the types of characters you could play as an actor is incredibly important. By knowing this, you can understand what roles you're more likely to be considered for and makes you more marketable — helping your career in the long-run.
When a casting director asks for an "Adam Driver type" there's already an image that comes to mind. An "Adam Driver type" is probably a brooding, smart character who cares too much about something, potentially something misguided. This "type" is most likely defined by his role as the Star Wars character Kylo Ren, but it could also be because of his physical appearance. When casting a project, there is an emphasis on finding the right "look" as well as the right acting talent. Driver's long, dark hair indicates more of a flawed antihero rather than a Captain America-style paragon, while his height follows the George Washington theory of commanding attention — if he's tall, then he's in charge. Within seconds of seeing Driver on screen, you can guess what "type" of character he's playing.
Even though Driver's characters seem to follow similar archetypes, the characters within the archetype are obviously different. Each character has their own idiosyncrasies and mannerisms that show they are all their own fully-formed human beings. Put them in a line up and Paterson (Paterson) is obviously different from Rick (Tracks) and Jamie (While We're Young) and Kylo Ren (The Force Awakens) despite being similar "types." This is a testament to how well he understands his craft. He has an incredible attention to detail and it's amazing to see him take something that is two dimensional (the script/character descriptions/etc.) and interpret it in such a way that we as the audience immediately know this character and their complex personhood from the first moment he's on the screen.
Driver is even able to differentiate himself from other actors who play similar archetypes. A good comparison is Benedict Cumberbatch (Big Fan). Cumberbatch plays characters in the Angry Intellectual and Tortured Genius archetype, but they're often softer and quieter with an underlying sense of righteous justice (see Alan Turing, Doctor Strange, Sherlock Holmes, etc.); whereas Driver's Tortured Genius usually struggles with overt masculine anger and toxic masculinity. The differences between these two actors are a combination of their acting ability, physicality, and how we perceive them and their "type." And while Cumberbatch and Driver may be on the same short-list for a casting, there are certain roles more suited for a Driver-type rather than a Cumberbatch-type.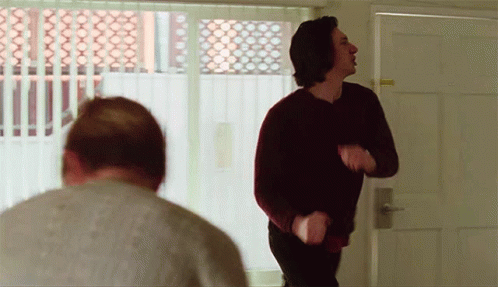 In his more recent films, Driver has been portraying characters struggling with male rage. The main ones that come to mind are Marriage Story, Star Wars, and The Man Who Killed Don Quixote. Despite male rage being a typically unattractive quality, Driver is able to create an instant empathetic connection between the characters and the audience. These are incredibly masculine characters are full of complex emotions and Driver isn't afraid to explore the depth of these characters' motivations. Many "manly" characters in media aren't allowed the space to explore the full range of human emotions due to a stunted societal expectation of what is deemed masculine. Driver is able to subtly subvert these expectations by exploring a deeper layer to his anger, usually motivated by a profound sense of caring for something or someone. He's not just brooding for brooding's sake. He's sad. He's hurting. He has reasons for his emotions. It's this multidimensionality that succeeds in feeling connected to him despite not fully agreeing to everything he does.
Even though Driver's "type" has been in the sphere of drama, where I personally believe he shines is in comedy. It could be because I'm partial to comedy or the fact that I instantly respect people more based on how committed they are to a bit, but most of his early career have comedic moments. He's one of my favorite Saturday Night Live hosts in recent years. He is by far the best character in What If, so much so that I was more excited about his story arc than the actual romantic leads in the film. He has the best line in the trailer for This Is Where I Leave You (2014), "Oh no no no, we're just sitting in awkward silence." At first glance, it may seem that this is a separate skill to his dramatic acting, but there are similarities between his comedic and dramatic roles and how he approaches them. The comedy works because each character truly believes what's happening in that moment, even if it's completely ridiculous. He plays people not caricatures.
Adam Driver is an absolutely brilliant actor. It is difficult to pinpoint exactly why, but it's most likely because of his high level of attention to detail and commitment. You can see the care and discipline he has for the craft in each of his thoughtful portrayals. When I first started research for the piece, I rated him a "Big Fan." Now that I've analyzed his career more, I rate him as "Love" on the Crush-o-Meter.
Reasons why we love Adam Driver:
We love the fact that he plays two audience favorite SNL characters – Abraham H. Parnassus and Matt the Radar Technician.
We love that he started Arts for the Armed Forces.
But mostly, we love his acting range and he's committed to the craft and that he's able to showcase a wider range of masculine emotion
Snaps for Adam Driver! He's this Moment's Crush! For now, I'm rating him at Love. I can't wait to see how his career continues to grow.